Groboto: Pure 3D Creativity!
Published December 14th, 2006
Groboto: 3D Software for Artists, Designers & Explorers
Originally downloaded 12/14/06.
This software won me over in less than half an hour. Totally unique and addictive for creative personality types. With Groboto, you use prebuilt or self-made "bots" that you can easily morph into infinite---and infinitely enjoyable---ways. Groboto supplies high quality, professional textures that themselves are thoroughly customizable, as well as full control over lighting and environment variables. The interface itself is beautiful as well as reasonably intuitive, given the amount of power put in front of you. This is by far the easiest 3D software I've yet tried, usable right off the bat.
Groboto comes with numerous example files and excellent tutorials. The website likewise has movies and images of Groboto output to give you an idea of what you can do. The Groboto creations look a great deal like something Tim Burton would have dreamed up for one of his more bizarre animated movies (such as Nightmare before Christmas).
Besides high-resolution images, Groboto can output animated movies of your creations in a variety of formats, including QuickTime. The software itself has animation controls that you can tweak when preparing your morphs, and you can see live previews as you build. One of the most amazing aspects is the endless control you have over the characteristics of your "bots"---everything from color, texture, lighting, width, shape, and much more.
If you're a creative type who just love to make beautiful things, you should check this one out. Among the uses I plan for Groboto is making QuickTime movies for use as screensavers or to run on my desktop. The software can output animations at a resolution up to 1920x1200, though the demo is restricted to an output width of 400 pixels.
To see screenshots of the user interface, check out the screenshots section of the Groboto site galleries. Sample Groboto movies are in the Movies section.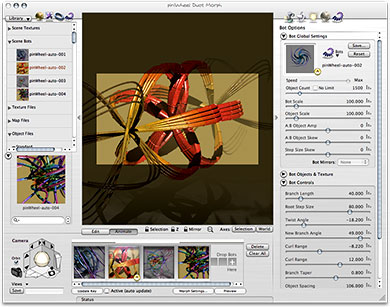 Groboto is available for both Mac OS X and Windows at $79 for a single user.
Version as tested: 2.0.3.
---
Show Comments