Mars Themes Website: New Home For Mars Downloads
Published December 1st, 2011
A few weeks ago, I launched a new website — Mars Themes — as a central repository for all the various themes, app skins, applications, widgets, and so on that I've developed over the years.
These items — all available as free downloads, except for two — were previously in a section of the Mars website linked to the "Downloads" item in the navigation bar. That link now takes you to Mars Themes. (Oh yeah, the two not-free items are the software apps CrystalClear Interface and Crystal Black. They have their own websites, but are also linked to Mars Themes.)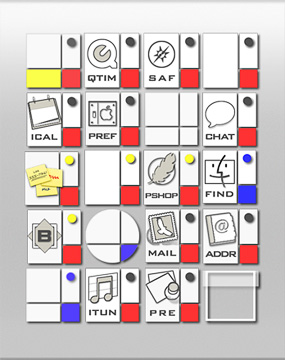 The new site has all the content previously available here, plus a few more things. The site has a News section where all recent additions or changes are announced, and separate pages for Themes (for ShapeShifter only), Icons, Widgets, App Skins, and "More Freebies."
Not previously available are a set of icons I designed back in 2005, which were included in my ShapeShifter theme DeStyl Ruler. These icons are inspired by the early 20th Century Dutch art movement De Stijl, whose most famous adherent was Piet Mondrian.
Also now available are a set of desktop pictures that accompanied the DeStyl icon set. These designs deconstruct the Schroder House, one of the only examples of De Stijl architecture.
---
Show Comments