New Crystal Trinket Eliminates Maintenance on Your Menubar
Published August 15th, 2007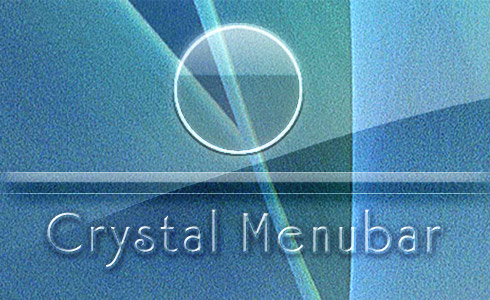 Updated 9/1/07: Released version 1.1, which corrects the Applescript error that many users received when using Crystal Menubar after ejecting its disk image. See link at the bottom of this page.
I'm releasing this in advance of Crystal Clear 1.5 since it's ready to go and there may be one or two folks who are tired of dealing with the "roll your own" menubar from version 1.2, even though it did eliminate the ugly menu-extra smudgies of previous releases.
With Crystal Menubar, you just drag the application to your hard drive (the "Applications" folder, maybe?) and click it. This will put the nice, clear Crystal Menubar in its rightful place at the top of your screen. After that, you can just forget about it. Use whatever desktop picture that strikes your fancy!
If you decide to use it, just add it to your Login Items in System Preferences (the Accounts pane) so it gets launched when you log in.
Since Crystal Menubar has no interface to speak of (no, uh, menubar of its own, and no dock icon), I tried to make it super-easy to get rid of if you want to… though it's a method you may not be accustomed to: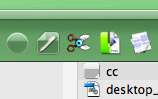 To quit Crystal Menubar, just launch it again. That's right… it's got a toggle mechanism built in so you click to launch it and click again to close it. During testing, I've found it ideal to keep the icon in my Finder toolbar—it looks quite nice there, too!
Since the Crystal Menubar is mostly transparent, it'll only be meaningful to folks who are running Crystal Clear 1.2 or later. No one else will notice much except an extra bit of shadow under their existing menubars. Anyone testing Leopard (Mac OS X 10.5) will notice more, depending on which build they're using. (But I still hope to get Crystal Clear working for the "real" Leopard that's coming this fall.)
If anyone runs into difficulties or notices anything unexpected while using the Menubar, don't hesitate to leave a message.
Download Crystal Menubar 1.1 (420kb)
VERSION HISTORY
| | |
| --- | --- |
| 1.0 | First release, 8/14/07 |
| 1.1 | 9/1/07. Second update to resolve persistent AppleScript errors (#10814). |
---
Show Comments