Springy: A New Standard for Mac Zip File Utilities
Published March 14th, 2007
Springy: The ultimate X archiving
Originally downloaded February 3, 2007. I recently had to spend umpteen-thousand words with the developer of BetterZip explaining why I thought Zipeg was a better value (being free) given the relatively slow performance of the $20 BetterZip software. That doesn't mean I think Zipeg is the ultimate in handling archive files… it doesn't create archives at all, for one thing. It's also got a java base under its Cocoa framework, which only makes it seem a little clunky… a little un-mac-like. So I saw this announcement for a new version of Springy, and on reading the website thought this could indeed be the "ultimate" tool I'm seeking and would be willing to pay for… plus it's a couple bucks less than BetterZip! Besides archive preview and extraction, Springy includes contextual menu actions and compression tools.

Update 3/14/07. Springy is by far the best Mac OS X utility for previewing, extracting, and creating zip files that I've yet seen. And it was only a year ago that I looked around and found virtually nothing. First came BetterZip, which was buggy and seemed slow. BetterZip got better with new versions, but ultimately I found it was just too slow, and I didn't think it was worth paying for. Then I found Zipeg, a new freeware tool that I still think is terrific, particularly since it's free. However, as I noted above, Zipeg is a bit un-Mac-like and doesn't have a search function.
Then Springy came along just recently, and I was immediately impressed. Springy's interface emulates the Finder, so Mac users will feel immediately at home. It even has the same view options as the Finder! Springy is fast like Zipeg but has the terrific search bar of BetterZip, so already it's better than both.
But to top it all off, Springy has a feature that Context menu fanatics like me really go nuts over: Springy provides a context menu application that's always available when you're browsing the Finder. You just select the files you want to archive and go to Springy's contextual menu item. There, you can select what kind of archive you want to make and boom! (as Steve would say), Springy will make you a zip file and launch Springy for you. Alternatively, you can access the contextual menu to set Springy's preferences or check for updates.
But that's not all! If you select an archive file in the Finder, you'll see its name right below the Springy contextual menu item. Select the name, and wait a moment, and Springy will let you navigate the file tree inside that Zip file… all without opening Springy! If you select a file or folder while browsing the archive, Springy will extract them for you. Springy's preferences window gives you some control over how Springy extracts, and what the contextual menu does.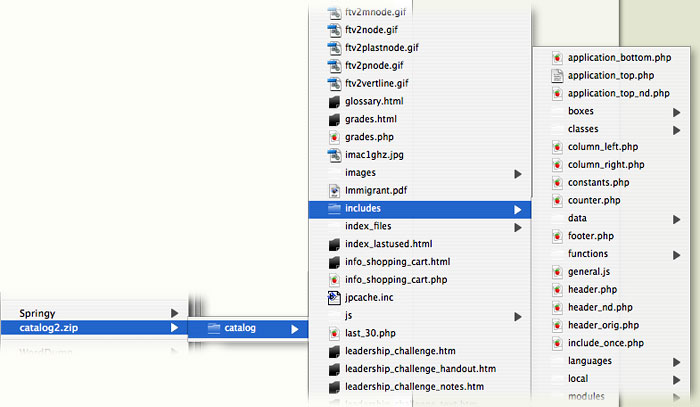 If you're looking for a zip-file manager and you have a little money to spend, you can't do better today on the Mac than Springy. As you'll see by browsing the table of pros and cons below, it's not perfect (what is?), but it'll surely delight you with its speed and pure Mac OS X elegance.
Pros

Cons

Includes a handy contextual menu.
Beautiful interface with a Finder-like browser that includes all the usual Finder window features (Views, options, etc.) Also includes the Finder's excellent browser-like navigation (back/forward).
Supports both compression and decompression.
Excellent browse/search tools for examining archive contents.
File preview is instantaneous, like Zipeg.
Excellent Help file.
Very flexible set of preferences that let you adjust Springy's behavior in both its application and contextual menu forms.
Uses Sparkle framework for updates.
Can unpack SIT and RAR files as well as various flavors of ZIP. This is a trick that similar tools, like BetterZip and Zipeg, can't do, and it frees you from reliance on the Stuffit tools.
For most kinds of archives, Springy lets you navigate the archive right from within the Finder using its contextual menu. You can navigate through the archive and select just the file you want without ever launching Springy or using its main interface.

The demo version is too restrictive. For example, you can't try Springy out on very large archives in demo mode. It's limited to 50MB or 500 files, so I couldn't test it on my largest archives. You also can't test the contextual menu browse feature with the demo. However, if you really need to try it first, contact the developer and ask… they may be as nice to you as they were to me.
It would be nice if you could use the preview pane as you can in the Finder… as long as you feel like you're in the Finder, it seems odd for that to be missing. If Springy won't actually preview files, I'd recommend turning off the preview pane, because it sets up expectations that aren't met.
I've encountered a few archive file formats that Zipeg could handle but Springy couldn't.
Version as tested: 1.2.2.
---
Show Comments