MacGizmo: An Excellent Finder Preview While We Wait for Leopard's "QuickLook"
Published December 6th, 2006
MacGizmo: Not Just for Preview

Originally downloaded 4/25/06. I highly doubt that this application will be worth $20 to me… my existing quick paths into application folders and such are fast enough. But I'm curious to see what kind of interface MacGizmo provides… the description makes it sound like a web-browsing type view. The software installs itself as a preference pane.
Update 12/6/06. I'm extremely tardy in adding this to the Recommended list… after all, I actually did buy a license for it back in May 2006! It turns out that MacGizmo does for the Finder what Apple's forthcoming QuickLook technology will do in Leopard: MacGizmo lets you preview a multitude of file types without leaving the Finder, and you can interact with them just as if you had opened them. But it's much faster than opening files in a native viewer. Just press the Option key while clicking on a file in the Finder, and MacGizmo will display a preview of text, HTML, RTF, PDF, audio, video (any QuickTime-compatible movie), and image files. If you preview an application package, MacGizmo will identify all the text files (including RTF and PDF) that may be contained therein and lets you open them. In addition, MacGizmo lets you print files from within its interface… which again can be a real convenience at times.
I've found MacGizmo to be a real time saver, although I'll most likely not continue using it in Leopard. The only negative thing I have to say about MacGizmo is that the shortcut that's supposed to make its interface disappear doesn't always work, and I have to click outside the Finder to put MacGizmo back to bed. I also would like to be able to drag MacGizmo to another location on the screen occasionally, since it can obscure other items in the Finder while it's open.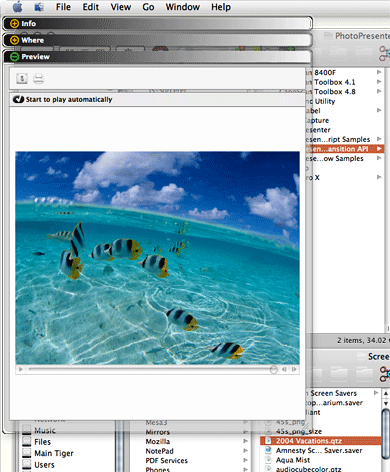 Speaking of interfaces, MacGizmo's is unique. It's got some cool animations and uses transparency effectively. You can resize its preview windows however you'd like, which also enlarges the contents for some kinds of files. There are a variety of contextual menus that let you preview different kinds of files, but as much as I like contextual menus, MacGizmo is much quicker and easier to use. It's a $20 well spent if you like the idea of quickly previewing different file types in a single application.
Version as tested: 1.0.4.
---
Show Comments