Smart Scroll X: Put Your Scrollwheel on Steroids!
Published November 28th, 2006
Smart Scroll X lets you scroll by clicking and dragging anywhere in a window
Originally downloaded 7/29/06. At the moment, this works only in Cocoa apps, but that's a lot of them nowadays. This tool, which installs as a preference pane, gives you more choices on how to scroll in your apps, turbocharges your scroll wheel, and lets you scroll with the keyboard, too. Sounds pretty useful! I'll find out whether it's worth the $15 or not when I try it out.
Update 11/28/06. I've been using SmartScroll regularly for some time now, and it's one of those apps that I really miss when it's gone (or off). Unfortunately, that means I can't use SmartScroll when I switch to my Leopard beta installation, because SmartScroll is a "haxie" that relies on Unsanity's APE framework… and Unsanity hasn't yet updated APE for Leopard. But I really enjoy using it in Tiger!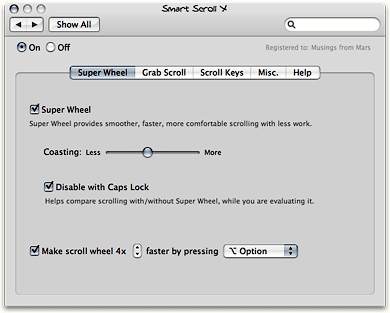 I particularly like the "Super Wheel" function, which lets me scroll very quickly up and down a long list or web page with only one or two flicks of the scrollwheel. It uses a "coasting" function, which you can customize to your taste. I've come to realize that coasting is simply a much more "natural" way to interact with a scrolling page, now that I've used it for awhile. Rather than the page stopping abruptly each time you use the scrollwheel, coasting lets it keep going for awhile (more or less depending on how you configure it). Another part of SuperWheel that I use frequently is the super-speed mode, which you activate in the Smart Scroll Preference Pane. With this feature, you can have the scroll go x-times faster than usual (you supply the "x" in a pull-down menu of choices). To enter fast-scroll mode, you can choose a modifier key to press as you use the scrollwheel (I use the "Option" key). This really speeds things up!
The latest release of Smart Scroll lets it work in a number of Carbon apps, too (like Photoshop, BBEdit, and Microsoft Word). However, occasionally I run into an app that balks at Super Wheel… lately, it's been RagTime 6.0. Then, I switch to using Smart Scroll's "Scroll Keys" functionality. With Scroll Keys, I can rapidly scroll up or down by pressing a key combination of my choosing. (I use Cmd-Ctrl to scroll down and Cmd-Opt to scroll up). Like everything else about Smart Scroll, Scroll Keys are both optional and highly configurable.
One feature I don't use, but that might be of interest to others, is "Grab Scroll." This feature lets you configure your mouse to scroll pages by clicking and dragging rather than using the scrollbar or scrollwheel. It also has its own "Coasting" feature that you can configure, as well as a plethora of options.
Finally, a really cool feature of SmartScroll is its ability to be deactivated for certain applications of your choosing. (Of course, it also is inactive for whatever apps you designate as globally ignored by Application Enhancer.) Not only that, but SmartScroll exposes each major feature in its "ignore" table, and you can reactivate a selection of those features in a given application. In other words, you can make em:only SmartScroll's "Scroll Keys" function active in RagTime, while deactivating all other functions. Or tell Finder to only use the "Super Wheel" function and nothing else… Or… well, hopefully you get the idea.
Now, for all of this great enhancement to your mouse and scrolling capability, the price of Smart Scroll seems quite reasonable, and I'm happy to be a license holder. The developer is very responsive to suggestions and updates the software often with new and better features.
Version as tested: 2.0 b5.
---
Show Comments