Bullseye: A Radial Menu Launcher
Published July 6th, 2006
Bullseye by Old Jewel Software

Bullseye is, as far as I've been able to determine, the first commercially available implementation of "radial" or "pie" menus in a desktop application geared to everyday use. Old Jewel Software released Bullseye back in 2004, but it only came to my attention a few months ago. Perhaps it never comes up in searches for "radial menus" or "pie menus" because the site doesn't describe its user interface that way. However, that's indeed what Bullseye is: A Mac OS X launcher app that uses radial menus as its organizing metaphor.
After testing Bullseye, I decided to not buy it for myself, since I'll be using Quicksilver for everything I could do with Bullseye. However, I'm including it as a recommendation because it's such a wonderfully innovative implementation of radial menus, which have just this year captured the imagination of user interface designers after having been on the drawing board by researchers for years. In fact, in the early days of the GUI, there were some primitive implementations. Bullseye gets it quite right, however. It's a very easy to use, quite intuitive and flexible file and application launcher that is in many ways much more useful than the Mac OS X Dock. For $8.85, it's quite reasonably priced and definitely worth a try if you're interested in the concept.
Most Mac users encountered radial menus for the first time when an implementation of them was added to Quicksilver earlier in 2006 via the Constellation plugin. Where that plugin acts more as a file browser in one mode or as an alternative way of inserting the "predicate" in Quicksilver "sentences" in the other, Bullseye presents users with a radial menu of all their currently running applications.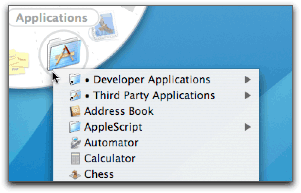 Bullseye then lets you add all of your usual Dock items to the menu if you like, and you can drag folders and apps to the menu as the spirit moves you. Folders can be browsed as in the Dock through a contextual menu. Anything added to Bullseye can be dragged off with a "poof"–again, like the Dock–or you can modify the list of "Bullseye items" in the application's preferences.
The preferences also let you customize the look and feel of the radial menu itself and its behavior in a number of useful ways. One note of warning… After upgrading to 10.4.7 this week, I've found Bullseye to suddenly be prone to "not responding" without trashing the preferences file. This had not been a problem at all before then, and it's possible the problem is due to some other system configuration changes I've made lately… or even to a conflict with Quicksilver, since I've been fooling around with Constellation lately too.
Update 2/25/07. Bullseye has morphed into Trampoline , released today as version 2.0. The price has gone up to $20, so presumably Trampoline has more functionality than Bullseye.
---
Show Comments